Adv. Sanjay Gupta
Founder/ Partner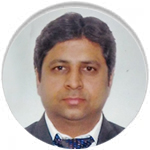 B.A. L.L.B.
CEO & Director, AAA Capital Services Pvt. Ltd.
Insolvency Professional
Regn. No. IBBI/IPA-001/IP-P00117/2017-18/10252
Total experience: 20 Years
15 years of experience in handling SARFAESI cases for enforcement of security interest, resolution of NPA accounts. Currently, the Executive Director of AAA Capital Services Private Limited and leads its team of 175 people.
Core Competence & Industry specific experience
Experience of many industry sectors on handling resolution including One-time settlements, restructuring and upgrading of loan account etc. AAA Capital has handled more than19,725 SARFAESI cases, across various states of India.
Experience in restructuring & handling of Stressed Assets
AAACS Capital is the largest resolution and enforcement agents under SARFAESI Act, for the last 15 years and is empanelled with all Public Sector banks and most of other banks in India. AAACS has taken physical possession of more than 3000 stressed assets under SARFAESI Acts, and handled more than 1000 debt syndication, restructuring and rehabilitation cases.
Experience under IBC
Concluded 3 CIRP of Iron & Steel Industry, 1 Power & Steel, 1 Picture tube manufacturing and 1 real estate successfully.
Currently, Resolution Professional in 1 case, and Liquidator in 3 cases. Handled largest company of Amrapali Real Estate Group as RP till proceedings under IBC were stayed by Hon'ble Supreme Court.
Cases Handled:
Companies Name Claim Value(Rs. Cr)
| | |
| --- | --- |
| Vandana Vidhyut Ltd. | 2300 |
| Ultra Home Construction Pvt. Ltd. | 1800 |
| Samtel Color Ltd. | 1140 |
| Vandana Energy and Steel Pvt. Ltd. | 320 |
| Garg Inox Ltd. | 187 |
| Varia Aluminium Ltd. | 150 |
| Vindhya Vasini Ind. Ltd | 50 |