Advocate CS CMA Sanjay Lalit
Partner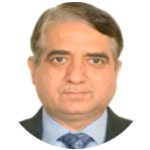 B. Com (Hons), LLB, FCS, ACMA
Insolvency Professional- IP
Regn. No- IBBI/IPA-002/IP-N00760/2018-2019/12370
DESIGNATED PARTNER, MUMBAI
Total Number of years of experience: 35+ years
Core Competence & Industry-specific experience
Significant experience in the Companies Act, Corporate Governance & Finance field with good command on compliance of Corporate Laws and related domain knowledge.
Earlier as an In House General Counsel & Company Secretary gained rich experience & exposure in Chemical & Fertilizers, Steel, Electronics, Automobiles, Hydro-Power, Private Equity & Real Estate Fund, NBFC, etc.
Worked in all types of work environs in the country like Caparo, Piramal, Milestone, Jaypee Group, New-Holland Tractors, JVs of Samsung Korea / Corning USA as their General Counsel & CS.
Full-time Corporate Experience of around 27 years and thereafter practical experience as Corporate Legal Advisor/Advocate of around 7 years and have sufficient skills, competencies & hand-on experience to do any assignment/ work pertaining to CIRP/IPs to the best of performance & potential level in accordance with the requirement of the specific situation. Significant experience in restructuring   & resolution of stressed assets. Successfully handled & resolved various issues pertaining to stressed assets of more than 100  cases from 2001 till 2019 of various Companies outside the purview of IBC Code. 
Industry Sectors
Successfully handled all types of legal matters in various Courts including High Courts, Supreme Court, Arbitration Proceedings & Wide-ranging interactions with Leading Law-Firms, Senior Counsels/Advocates, Big 4 & other Accounting & Management Consulting Firms, etc. Regularly monitoring changes in the legislation / regulatory matters/case law. Drafted various kinds of Agreements viz. Joint Venture Agreements, Power Purchase Agreement, Lease Agreements, Project Financing, Capex and Working capital requirements. Experience in Compliances with RBI & SEBI Regulations, Companies Act, Capital Re-structuring & Scheme of Arrangement, External Commercial Borrowings approvals from RBI. Other matters pertaining to the entire Secretarial Work of Listed Public Limited Company/MNC/JV Company. Compliance with Listing Agreement. Dealings with various Government agencies of Central & State Governments, FIPB approval, Acquisitions & Mergers, Amalgamation of Group Companies and restructuring exercise, valuation and revaluation of assets. Handled Board Governance & Meetings comprising of various eminent Directors, Shareholders & Creditors Meetings.
Experience under IBC:-
Experience under IBC Partner of AAA Insolvency Professionals LLP, the largest IPE in the country and assisting the other partners in CIRP and Liquidation cases. AAAIP is presently working on more than 169 live CIRP & liquidation cases.