Anil Kumar Mittal
Partner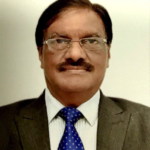 M.Com, MBA, CAIIB, PGDPM
Insolvency Professional
Designated Partner 
New Delhi
Regn. No. IBBI/IPA-002/IP-N00742/2018 -2019/12263
Total Number of Years of Experience:- 40 Years
Core Competencies and Industry-specific experience:-
Former Banker—Top Level Executive—Probationary Officer to General Manager and then Chief Vigilance Officer (Executive Director)—Has substantial experience of four decades in three Public Sector Banks including expertise of 20 years as core credit executive at  different levels up to Corporate office in Credit Appraisal, Project Finance, Financial Analysis, Corporate Finance, Debt Syndication, Credit Sanction, Credit Dispensation, Documentation and Credit Monitoring in various industries, NBFC, MSME, Retail and Trade Sector in various geographies. 
Has vast exposure in Banking Operations, Asset Management, Liability Management, HR, Industrial Relations, Audit, Expenditure Control, Rationalization, Property Management.
Has vast experience in handling of stressed assets and NPA recovery.
Handled vigilance related matters for three years and detected many frauds.
Experience under IBC:-
Partner of AAA Insolvency Professional LLP which is the largest IPE in the country and assisting the other partners in CIRP and Liquidation cases. 
AAAIP is presently working on more than 78 live CIRP cases and 22 Liquidation cases.
Public speaking and Content writing:-
Chaired a large number of consortium meetings of banks as the lead bank, apart from being an active participant in other meetings.
As Regional Head handled a Business mix of Rs. 500 Billion.
At the corporate office, member of various committees on Credit Approval, Credit Risk Management, NPA settlement, Fraud Prevention.
Presented Paper on 'Finance to Power sector' and was a speaker on Panel in Mumbai in a widely attended seminar of Bankers, Syndicators, Lawyers, Engineers, Chartered Accountants, Valuators. 
Views on 'Finance to Infra Sector' were published in 'Banking Frontier' journal.
Has been a visiting faculty on credit-related matters.