CA Anand Sonbhadra
Partner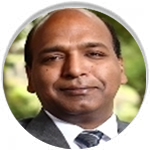 B.Com. (Hons), FCA, CMA (Australia)
Insolvency Professional
Regn.No.:IBBI /PA-001/IP-P00739/2017-2018/11771
Designated Partner
Total Experience :26 Years Core Competence & Industry specific experience
Strategy, Scaling up & Turn Around of business, Mergers and Acquisitions including cross-border Acquisition & Complex demergers, creation of global legal structures for Fund raising from Banks and PEs. Managing PE investor relations, ERP implementation, Audit, Enterprise Risk Management. Has acted as CFO for multiple Businesses in India.
Experience in diverse Sectors as Pharmaceutical, Specialty Chemicals, Internet & Search, Digital Media, ecommerce giants. Has been associated with various MNCs such as Bremer GMBH, Avantor Performance Materials, Ricoh India Limited, ICIM Ltd. PWC and Deloitte.
Experience in restructuring & handling of Stressed Assets
Turn-around of Ranbaxy's Allied business for its sale & Investment into by PE firm-ICICI Venture Limited. Restructured and scaled up RFCL Limited.
Scale up of Getit Group Business from a Yellow pages Directory Business to a Digital media and large format eCommerce Business.
Public Speaking and Content Writing
Has been part of forums as Expert speaker on Mergers & Acquisitions and Digitalization of Business.