CA Anil Kumar Khicha
Partner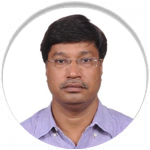 B.Com, FCA
Insolvency Professional
Regn .No .IBBI/IPA-001/IP-P00422/2017-18/10745

Designated Partner, Chennai
Total experience : 30 Years
Core Competence & Industry specific experience
Audit, accounting, bank audits, debt syndication, corporate consultancy. Industry Sectors: Steel Industry, Real Estate/Builders, Trading Business and NBFCs.
Experience in restructuring & handling of Stressed Assets.
Structuring & Restructuring of debts finance with banks in more than 40 assignments.
Experience under IBC
3 cases filed with NCLT on behalf of operational creditors-2 at Chennai & 1 at Guwahati.
Public Speaking and Content Writing
Served as a reviewer of articles for "The Chartered Accountant", the monthly Journal of ICAI, for 5 years. Served as a member of the Study Group of the CASC that released the book "Corporate Audit Checklist" in 2003.
Contributed articles to professional magazines like The Chartered Accountant, Newsletters of various branches of SIRC of ICAI, CASC Bulletin, etc.
Co-authored the book 'Stock & Recievables Audit' published by The Institute of Chartered Accountants of India, New Delhi in 2001. Served as Editor of 'CASC Bulletin', (since its inception in February, 2000) a monthly magazine of the Chartered Accountants Study Circle, Chennai for 10 years.