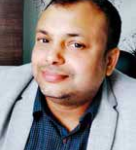 Total experience : 16 Years
Core Competence & Industry specific experience
Expert in handling Statutory Audit, Internal Audit, Tax Audit, management consultancy, Counselling on Company Law matters, financial and tax planning, Debt restructuring, Incorporation-Merger-Demerger, Liquidation of Companies, Preparation of project reports, advising companies/firms in preparation of restructuring plans and helping in transforming sick companies into healthy ones, assisting companies in mapping short term and long term plan of the companies.
Industry Sectors
Manufacturing, FMCG, Homecare, Fashion, Chemical, Healthcare, Retail, Food & Hospitality, Infrastructure, Heavy Industries, Mining, Power Sector.
Experience under IBC
Partner of AAA Insolvency Professionals LLP, the largest IPE in the country and assisting the other partners in CIRP and Liquidation cases. AAAIP is presently working on 54 live CIRP & liquidation cases.