CA. Bimal Agarwal
Partner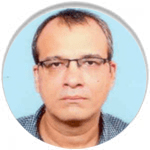 B.Com. (Hons.), FCA
Insolvency Professional

Regn. No. IBBI/IPA-001/IP-P00268/2017-18/10512
Designated Partner, Kolkata
Total experience : 25 Years
Core Competence & Industry specific experience
Statutory audit, Internal audit, Direct and Indirect Taxation along with Bank Audit, Specialisation in Management Consultancy, Project Financing.
Industry sectors: Logistics & Transportation, Plastic Products Manufacturing, Jewellery.
Experience in restructuring & handling of Stressed Assets
Merger & Acquisition, Amalgamation, Bank loan proposals
Handling clients under financial stress for restructuring and rescheduling of their debt.
Experience under IBC
Supervising cases assigned to Mr. Anil Goel, Mr. Anil Agarwal and other Kolkata based partners such as REI Agro, West Bengal Essential Commodities Supply Corporation Limited, Varrsana Ispat Limited.
Public Speaking and Content Writing
Making checklists and formats for various sub-processes of CIRP and liquidation.
His content is being used for software development.