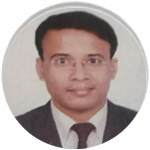 TB.Com, FCA, FCS, DISA (ICAI)
Insolvency Professional

Regn.No. IBBI/IPA-001/IP-P01169/2018-2019/11837
Total experience : 15 Years
Core Competence & Industry specific experience
Project Finance, Bank Audit, Taxation, Working Capital Management, Due Diligence.
Industry Sectors: Pharmaceutical, Automobiles, Banking, Jewellery, Infrastructure, Hotels, Manufacturing, Mining & Quarrying, Telecommunication.
Experience in restructuring & handling of Stressed Assets
Handled restructuring from Banks of clients with financial stress, due diligence of cases under financial stress and have made projections to understand their valuation.
Experience under IBC
Have been assigned 3 IBC cases as IRP/RP from Dena Bank, Punjab National Bank and SAFS, IDBI
Partner of AAA Insolvency Professionals LLP, largest IPE in the country and assisting other partners in CIRP and Liquidation cases. AAAIP is presently working on more than 46 live CIRP cases.
Public Speaking and Content Writing
Have contributed contents on IBC and prepared briefs of amendments for uploading on the website of AAAIP.
Have made PPTs for internal training of Human resources at AAAIP.