CA. Jagdish Kumar
Partner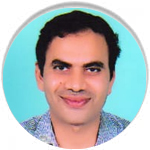 B.Com., FCA
Insolvency Professional
Regn.No.IBBI /IPA-001/IP-P00671/2017-2018/11143
Total experience : 15 Years
Core Competence & Industry specific experience
Accounting, auditing, compliances, stressed asset consultancy. Business Review and Analysis, Tax planning, Settlements Negotiations.
Experience in Explosive Industries, Builder/Developers & Colonizers, Sponge Iron/ Ferro-Alloys/ Steel Casting Industries, Engineering & Casting unit, Plywood Industries, Saw Mills, Rice Mills, Dal Mills, Flour Mills, Petrol Stations, Hotels
& Restaurants, Educational Institutions, Hospitals, Charitable Trusts, Traders of Home Appliances & Agriculture implements.
Experience in restructuring & handling of Stressed Assets
Have handled cases of financial stress and have provided consultancy for restructuring and rehabilitation.
Experience under IBC
For last 9 months actively handing cases of IBCwith Partners Mr. Sanjay Gupta (in CIRP & Liquidation) & with Mr. Anil Agrawal (in liquidation).
Has supervised operations of cases under IBC under the guidance of other partners namely: Vandana Energy & Steel Pvt. Ltd., Vindya Vasini Pvt. Ltd., Keshav Iron & Sponge Pvt. Ltd., Visa Power Limited, Vandana Vidyut Limited.
Cases handled:
Name of Corporate Debtor                                                                            Claim Value(Rs. Cr)
| | |
| --- | --- |
| Surya Treasure Island Pvt. Ltd. | 160 |
| Madhya Bharat Phosphate Pvt. Ltd. | 45 |