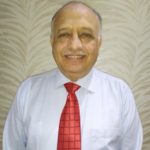 B.Sc.,  FCA, Certified Concurrent Auditor from ICAI
Designated Partner
Kanpur
ICAI M.No. :  073456
IIIP of ICAI Enrolment No.: IP/P-01793
Total Number of years of experience:- 30 years 
Core Competence & Industry specific experience:-
Experience as Statutory / Tax Auditor, Income Tax Matters, Concurrent Audit / Stock Audit & Due Diligence of Public Sector Banks and Consultant for Bank Finance and Founder Partner of M/s Sudhir & Shubham, Chartered Accountants
Accounts & Auditing;
Tax and Company Law Compliances;
Bank Loan syndication;
Projected financial statements, Technical and Financial Viability Study
Experience under IBC:-
Partner of AAA Insolvency Professional LLP which is the largest IPE in the country and assisting the other partners in CIRP and Liquidation cases.
AAAIP is presently working on more than 78 live CIRP cases and 22 Liquidation cases.
Member :
The Kanpur Chartered Accountants Society.
Income Tax Bar Association.