CMA. Deepika B Prasad
Partner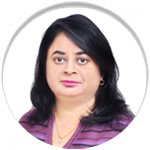 Cost & Management Accountant & Insolvency Professional
Regn.No. IBBI /IPA-003/IP-N000110/2017-2018/11186
Experience under IBC
| | |
| --- | --- |
| Cases Handled | Claim Value(Rs. Cr) |
| Compact Lamps Pvt. Ltd | 278 |
| Parivartan Buildtech Pvt Ltd | 43 |
| Cargo Planners Ltd | 35 |
| Kanik Electronics Pvt. Ltd. | 19 |
| Ess Dee Aluminium Limited | 1250 |
| International Trenching P Ltd. | –            |
Gems batteries Pvt. Ltd.                                       50 
Senior Designated Partner, New Delhi
Total experience : 20 Years Core Competence & Industry specific experience
Management consulting, financial modelling, business restructuring and costing assignments with India's renowned organizations. Internal Audit, Feasibility and setting up of new projects, Project Management& appraisal, Rehabilitation and restructuring under BIFR.
Worked in: Healthcare Industry, Automobile Industry, Energy sector – EPC Companies, Engineering Industry, Textile Industry, Garment Industry, Electronics, Fertilizer Industry, Television Broadcasting Industry, E-Commerce.
Experience in restructuring & handling of Stressed Assets
Worked on World Bank's project on "Ease of doing Business" on behalf of The Institute of Cost Accountants of India.
Working on a forensic data analysis assignment of national and strategic importance by NIA for Government of India.
Public Speaking and Content Writing
Associated with various Public Sectors/ Universities/ Trade Associations, to impart Training Sessions on GST and other subjects. Prepared a concept paper on Pricing Strategy–Goods Carriage for Indian Railways.
Prepared a Costing framework for CAHO.