CS. Kanwal Goyal
Founder/ Partner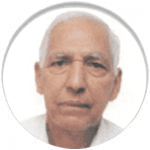 B.A., FCS, FICWA
Designated Partner
Insolvency Professional
Regn. No. IBBI/IPA-002/IP-N00007/2016-17/10007
Total experience: 41 Years
Core Competence & Industry specific experience
Competencies include Business Restructuring & Business Management, Compliance, Treasury & Fund Management, Risk & Strategy Consultancy, IPO and listing, etc.
Exposed to various Industry Segments such as trading of food grains, Rice Mills, Solvent Inspection, Liquid Glucose, Food processing Industry, Cement Industry, Agro Chemicals, pesticides and Insecticides, Investment and Banking, Printing.
Worked as Director (Finance) at Hindustan Insecticides Limited (5years) and as Company Secretary-cum–Financial Controller of Cement Corporation of India.
Experience of handling stressed assets & restructuring
Substantial experience of sick unit rehabilitation and restructuring of debt and equity, while working for clients. Has successfully led several restructuring assignments for companies he has worked with.
Experience under IBC
Presently RP in 3 cases, of which 1 has been stayed by SC being Amrapali Group Company.
Public Speaking and Content Writing Article on Voluntary Liquidation published in Chartered Secretary of Sept. 2017.
Cases handled
Name Claim Value(Rs. Cr)
| | |
| --- | --- |
| Osil Exports Pvt. Ltd. | 350 |
| Sonear Ind. Ltd. | 238 |
| Amrapali Infra. Pvt. Ltd. | 200 |