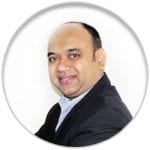 B.E. (Chem) Hons, MBA (IIM)
Designated Partner New Delhi
Regn. No. IBBI/IPA-001/IP-P00528/2017-18/10953
Total experience: 21 Years
Core Competence & Industry specific experience

Scaing up and turnaround of businesses operations, Private equity and investment banking relationships. Private equity investments in real-estate and infrastructure.
Fund raising from PE/VC funds. Has experience working in Key Management positions for companies (Omaxe, BPL Ltd, Airtel, ONGC) that are leaders in a range of different industries – real estate, textiles, paper and pulp, chemical & petrochemical and consumer electronics.
Experience in restructuring & handling of Stressed Assets
Advised an FDI Private Equity Fund in restructuring it's investments in the investee companies.
Experience under IBC
Presently RP in 2 cases of CIRP.
Public Speaking and Content Writing
Faculty in the 60 Hour Pre-Registration Course organised by IPAs.
Faculty for the State Bank of India Academy at Gurgaon. More than 10 Articles in mainline newspapers like Dainik Bhaskar.
Cases handled:
Name Claim Value(Rs. Cr)
| | |
| --- | --- |
| Shri Lakshmi Cotsyn Limited. | 5762 |
| HBN Dairies and Allied Limited | 1100 |
| (2 Lakh Financial Creditors) | |