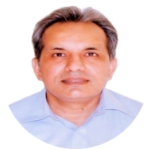 Designated Partner – New Delhi  
Registered IBBI Valuer & Insolvency Professional
B-Tech EE, IIT Delhi,
Diploma in Business Finance, ICFAI Certified Management Consultant,
Regn. No. IBBI/IPA-003/IP-N00218/2019-2020
Total Number of years of experience : 37 Years
Core Competence & Industry Specific Experience:
Senior Management Roles, Revenue and Operations Management, Strategic Partnerships, Key Initiatives, Program Management, Large Programs Implementation.
Worked at Senior Positions with Tata VSNL  Limited, Dishnet DSL Limited, Multinationals like- BT India Pvt Ltd, Cisco Systems India Limited, Telcordia Technologies India Pvt Ltd, HCL, Industry specific experience at Corporates including   Telecom Service Providers, Computer  & Electronics goods manufacturers, Telecom Solution Providers, Retail Broadband & Broadband Network  Service Providers. Strategy Consulting for a large  Solar Equipment  and Power Electronics Manufacturing company in India and a Telecom Infra project management company, Sterling Projects.
Experience in restructuring & handling of Stressed Assets:
Managed transition and acquisition of Dishnet DSL to  Tata VSNL