Mr. Ganga Ram Agarwal
Partner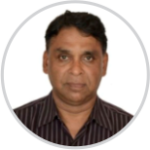 B.E. (Elect. Engg.), M.Sc. (Elect. Engg.), MBA 
Partner
New Delhi
Insolvency Professional
Registered Valuer (Plant & Machinery Assets)
Experience:-
Total experience of more than 35 years in Railway Industry at various levels of middle, senior and top management.
Last position held with Indian Railways: Additional member, Railway Board, New Delhi, responsible for the overall management of railway electrification directorates handling major freight and passenger operation on 28000 Km of Rail Network.
Held position of Secretary, Railway Board, New Delhi, responsible for all the establishment matters of all services of Indian Railways (including ligations in CAT, High Court and Supreme Court),  coordination with DOPT and Appointments Committee of Cabinet (ACC) on behalf of Ministry of Railways.
Worked as Chief Electrical Engineer Central Railway Mumbai and Chief Electrical Distribution Engineer of Central Railway, Mumbai and Western Railway, Mumbai for a total period of around 5 years responsible for managing large electric traction networks having intensive operations and the Intensive suburban operations on Networks of Central and Western Railway. Successfully piloted commissioning of a very complicated project of DC to AC conversion on Central Railway network. Also Spearheaded first open-access arrangement for availing traction power in Central Railway.
Worked as Divisional Railway Manager, North Western Railway, Jaipur for 2 years (2007-2009) responsible for overall business and operational performance. 
Core Competence & Industry-specific experience:- 
Intensive Experience in administration at different levels 
Management of large Railway entities and Industrial Units
Management of Railway Operations of large networks
Handling of PPP Projects
Project Management
Railway Electrification Projects
Production, maintenance, and operation of Rolling Stock
Open access and Power tariff
Proper understanding of Human Resource and industrial relations issues
Experience under IBC:-
Partner of AAA Insolvency Professional LLP (largest IPE in the country) and assisting the other partners in CIRP and Liquidation cases.
AAAIP is presently working on more than 78 live CIRP cases and 22 Liquidation cases.
Public Speaking and Content Writing :
Has participated in many national and international workshops and conferences in India and abroad.
Has been an assessor of International Project management Association (IPMA) Germany.