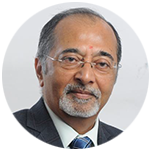 B.Com (Hons.), FCA
Insolvency Professional
Regn.No.IBBI IBBI/IPA- 001/IP-P01623/2019- 2020/12052
DESIGNATED PARTNER, KOLKATA
Total-experience: 31 Years
Core Competence & Industry-specific experience
Project Finance & Financial Management mainly in the following Industries: Chemical manufacturing, Ferro Alloys manufacturing, Health Care, Plastic, Real Estate, Cement manufacturing, Pharmaceutical, Engineering and Tea Estates. Worked in Industry for over 9 years with responsibilities mainly for arranging funds from Banks / FIs, IPOs, evaluating Industrial Projects for Investment decisions. Thereafter gained experience as an Advisor/Consultant for Funding arrangement for various Clients from Bank(s), Private Equity, FDI, Individual private Investors
Experience in restructuring & handling Stressed Assets
Was instrumental in reviving a Sick Unit manufacturing Chemicals, which was under liquidation, by arranging fresh funds for its revival, negotiating with the Financial Creditors, both Secured and Unsecured and other stakeholders. Over the years, handled many restructuring proposals for Clients with Lender(s).
Experience under IBC
Have already handled 1 case wherein was appointed as IRP by the Honourable NCLT.
Currently handling a Voluntary Liquidation case of Quess East Bengal FC Pvt Ltd. (in Liquidation) as the Liquidator.