Adv. Santanu T. Ray
Partner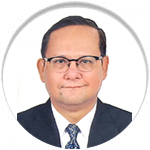 B.A., MBA (Finance), LLB
Director, AAA Capital Services Pvt. Ltd.
Regn. No. IBBI/IPA-002/IP-N00360/2017-18/11055
Designated Partner, Mumbai
Total experience : 24 Years
Core Competence & Industry specific experience
Worked at various senior leadership positions in following companies:
IFCI Financial Services Limited, Edelweiss AMC, Birla Sunlife, UTI Bank, SBI Mutual Fund, Kotak Securities.
Worked for Debt Capital Issuance and Loan Syndication.
Experience in restructuring & handling of Stressed Assets
Have dealt with various stressed cases in aforesaid companies while working.
Experience under IBC
Presently handling 3 cases as IRP/RP and as Liquidator in 1 case.
Have assisted Founder Partner CA. Anil Goel in his Mumbai NCLT cases like Loha Ispat Limited, Rasoya Proteins Limited, Amar Remedies Limited, Quantum Limited, Gujarat Oleo Limited.
Public Speaking and Content Writing
Guest faculty at Law Colleges on Insolvency.
Writing content for In-house circulation and training of human resources at AAAIP
Cases handled
Name of Corporate Debtor Claim Value(Rs. Cr)
| | |
| --- | --- |
| Conros Steel Ltd. | 700 |
| AML Steel and Power Ltd. | 700 |
| Euro Pallets Pvt. Ltd. | 32 |