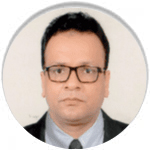 B.Com, ACMA, FCA
Insolvency Professional

Regn.No .IBBI /IPA-001/IP-P00270/2017-18/10514
Total experience: 22 Years
Core Competence & Industry specific experience
Accounts, Auditing, Compliances, Bank Loan Proposals, Company Law matters, Income tax, GST.
Hand holding growing MSMEs for growth and making them ready for business management through MIS and other systems, Automation of financial and production accounting and using MIS for key business decisions.
Have given consultation and have provided other professionals services to following Industry segment clients like Textile, Leather goods, Fabrication, Solar Power, Construction, Hospitality, Plywood
Experience in restructuring & handling of Stressed Assets
Working Capital Management both Fund Based and Non-Fund Based, Term Loan Funding, Hire Purchasing/Leasing.
Cases handled
Name of Corporate Debtor Claim Value(Rs. Cr)
| | |
| --- | --- |
| Global Coke Ltd. | 803 |
| Keshaw Iron and Sponge Pvt. Ltd. | 100 |
| Leather World India Ltd. | 53 |
| Shree Coke Manufacturing Co. Pvt Ltd. | 38 |
| Manor Floatel Ltd. | 35 |