Mr. Umesh Chand Goyal
Partner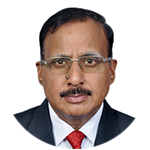 MBA (Financial Management)
M.Com (Accounts & Law) C.A.I.I.B, B.Com, Insolvency Professional
Insolvency Professional
Regn.No. IBBI/IPA-001/IPP-01876/2019-2020/12974
Worked alongside RP/ Liquidator in the following cases:
Nath Motors Private Limited
Ideal Energy Projects Limited
Unnati Fortune Holdings Limited
Lanco Babandh Power Limited
DESIGNATED PARTNER, NEW DELHI
Total-experience: 39 Years
Core Competence & Industry Specific Experience:
Worked with State Bank of India and following core competencies developed:
Wide comprehensive experience of banking operations across various spheres including forex, regulatory affairs, risk management, insurance cover for various risks, general management etc.
Strong exposure in the approval process, reviews and monitoring of high value credits/advances
Strong exposure in rehabilitation and recovery of sick industrial advances and end to end handling of BIFR cases
Strong accounting acumen including a flair for reading of the financial Statements
Projects management, managing real estate, involving procurement of new assets, maintenance and development etc.
Managing relationships with both internal and external stakeholders to further the bank's business interests
An exemplary communicator with expertise in liaising with diverse statutory agencies
Experience in Credit Monitoring, Restructuring & handling of Stressed Assets:
BIFR cases, worked as Operating of BIFR, conducting due diligence of the processes by promoters, conducting joint meetings of all stakeholders etc., disinvestment of sick PSU,
Heading Assets Sale Committee constituted by AIIFR,
Numerous compromise settlements beneficial to all stakeholders,
Monitoring the operations of industrial units as a banker in the following:

Iron & Steel units,
Railway wagon manufacturing units,
Conveyor belts for coal mines,
Steel castings for Railway equipment
Chemical and foam making units,
Builders and Developers for housing and commercial projects,
Electrical Controls & Switchgear units,
Electronics & Electricals units,
Aluminum Extrusion units,
Readymade Garment manufacturers
Furnishing manufacturing units,
Carpets manufacturing
Handicrafts dealers & Authorised Money Exchangers
As Regional Manager handling cluster of branches for Administration, Business Development, Asset Quality management, restructuring of Sick Units and sale of assets under SARFAESI
Experience under IBC:
Excellent understanding of IBC, cleared Limited Insolvency Examination in 1st attempt and registered with IBBI in Mar'20, Handling assignments under Critical Path Method with Programme Evaluation & Review Technique.
Public Speaking and Content Writing:
Faculty at State Bank Learning Centre, Guest Faculty at Apex Training Institutes, etc
Writing contents for In-house circulation and training of human resources.