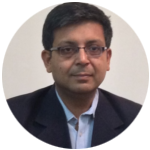 PGDBA (NMIMS), MBA (USA)
Insolvency Professional
Regn.No. IBBI/IPA-001/IP-P01562/2019-2020/12462
Registered Valuer
IBBI/RV/02/2019/12191
Cases being currently Handled                                                 Claim Value (Rs. Cr)
PSL Limited                                                                                                       11000+
Chahal Parivahan Pvt. Ltd                                                                                    2         
Successfully settled and case withdrawn
Wadhawan Global Hotels & Resorts Private Limited                                  57*
*Rs. 57 cr of Bank loan as on 31.3.2018. Application for insolvency-initiated u/s 9 and OC settled before admission of FC claim.                                                         
DESIGNATED PARTNER, NEW DELHI
Total-experience: 22 Years
Has over two decades of work experience in leading Banks and Investment Banking advisory firms.
Solid Experience of working in the corporate and investment banking side in multinational banks like Standard Chartered Bank and Bank of America.
Also, worked in ICRA Limited in the risk management advisory practice for Banks and Financial Institutions.
Vast experience in M&A and Equity Capital Fund Raising and has successfully completed deal closures of Rs. 4000+ cr.
Core Competence & Industry-specific experience
Resolution Management, Corporate Lending and Investment Banking.
Experience in credit risk management at Banks, mergers & acquisitions, fundraising, and managing the entire investment banking/resolution process cycle.
Insolvency and Bankruptcy Law
Multi-sector Experience – Agri, Food Processing, Automotive Ancillary, Consumer
Personal Products, Industrials and Manufacturing, Power Ancillary, Roads, Energy and Heavy Engineering.
Experience in restructuring & Handling of Stressed Assets
Successfully completed several resolution cases of NPA assets by completing One Time Settlement and thereafter resolution by either arranging funding from ARCs; and/ or Strategic Sale of the stressed assets, brand, business, etc. to Strategic Investors.
Handled over 100 funding raising and mergers & acquisitions cases including acquisitions by JK Group in the areas of Agri., food and automotive ancillary.
M&A and ARC funding completed for stressed/ NPA assets.
Experience under IBC
PSL Limited – Was RP in CIRP, and NCLT order sale under liquidation as a going concern and have received claims of over Rs.11,000 cr. Corporate Debtor has 4 operational plants. Have been able to turnaround the CD from loss-making to EBIDTA positive.
Chahal Parivahan Private Limited – Is RP, and CD is under CIRP Stage
Wadhawan Global Hotels and Resorts Limited – was IRP and the case was settled in CIRP
Also worked as a Supervisory Partner along with AAAIP Partner in the following cases :

Lanco Thermal Power Limited (LTPL) – Total claims received for Rs. 33,000 Crore+. Resolution Plan was approved by CoC and is pending approval of NCLT.
VIL Limited – Have received nearly Rs. 700 Cr. of claims from a CoC comprising 10 financial creditors. Resolution Plan was approved by CoC and is pending approval of NCLT.