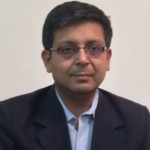 PGDBA (NMIMS), MBA (USA)
Designated Partner – New Delhi
Insolvency Professional – Regn. No.  IBBI/IPA-001/IP/P-01562/2019 -2020/12462
Total number of years of experience:  21 Years
Has over two decades of work experience in leading Banks and Investment Banking advisory firms.
Started his career at ANZ Grindlays Bank, Mumbai in 1997 and then joined Standard Chartered Bank in the corporate banking division.
Post that, worked in ICRA Limited and Bank of America in the equity and credit risk functions. He was also part of founding team of an investment banking firm with focus on M&A and Equity and Structured Debt Fund Raising. The firm successfully completed deal closures of over $600 mn.
Strong experience in credit risk management at Banks, mergers & acquisitions, fund raising, and managing the entire investment banking/ resolution process cycle.
Core Competence & Industry specific experience:
Resolution Management and M&A and Fund-raising working with Banks, Private Equity and Venture Capital Funds, ARCs and Strategic Indian and Global Investors.
Successful M&A and Fund-raising closures of over INR 3500 cr
Insolvency and Bankruptcy Law
Experience across sectors – Automotive Ancillary, Agrochemicals, Dairy, Food Products and Food Processing, Consumer Durables, Consumer Personal Products, Apparels, NBFC and Microfinance, Power Ancillary, Roads, Energy and Heavy Engineering.
Experience in restructuring & handling of Stressed Assets: –
Successfully completed several resolution cases of NPA assets under SARFAESI by completing One Time Settlement and thereafter resolution by either arranging funding from ARCs; and/ or Strategic Sale of the stressed assets, brand, business etc to Strategic Investors.
Handled over 100 funding raising and mergers & acquisitions cases.
Experience under IBC:-
Partner of AAA Insolvency Professionals LLP, Second 'Insolvency Professional Entity' (IPE) of India recognized by IBBI.