CA Ankit Goel
Founder/ Partner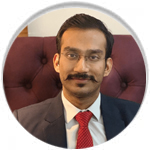 B.Com (H), FCA, LLB, DISA (ICAI), FAFD (ICAI), Registered Valuer (IBBI) (SFA), ID (IICA)
CCV (ICAI), CCIT (ICAI), CCAML (ICAI), CCCA (ICAI)
Insolvency Professional, Registered Valuer (Securities or Financial Assets)
DESIGNATED PARTNER, NEW DELHI
Total experience: 9 Years
Core Competence & Industry specific experience
Valuation Services, Forensic Audit and Transaction Audit Services, Transaction Advisory Services, Stressed Asset Management, Restructuring, Preparation of Resolution Plan under IBC, Audit & Assurance, Direct & Indirect Taxation Advisory and Compliances.
Experience in resolution plans, forensic audits, restructuring & handling of Stressed Assets
As Managing Partner of AAAG & Co., Chartered Accountants, engaged in handling more than 500 resolution Plans, transaction Audits, loan proposals, restructuring, etc.
As Founder Partner of AAA Valuation Professionals (I) LLP, a Registered Valuer Entity recognized by IBBI, has handled more than 50 Valuation Assignments involving Assets of more than 25,000 Crores.
Director of AAA Capital Services Pvt. Ltd. which has handled more than 26000 cases as Resolution Agents/ Enforcement Agents under the SARFAESI Act.
Experience under IBC
Founder Partner of AAA Insolvency Professionals LLP, the largest IPE of the Country under IBC and assisting other partners in CIRP and Liquidation cases.
AAAIP is presently working on 169 live CIRP & liquidation cases.
Public Speaking and Content Writing
Actively speaks on Valuation and Forensic Audit related topics at various forums, including events organized by NIRC of ICAI, EIRC of ICAI, ASSOCHAM, CEV IAF RVO, AIIOVF RVO, PVAI RVO, IIV RVO, ACVA RVO, IICA, SBI Gurukul, etc. Faculty with ICAI for conducting GST workshops for ICAI Members and Industry.