CA Ankit Goel
Founder/ Partner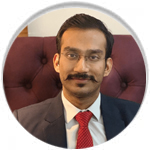 B.Com(H), FCA, LLB, DISA(ICAI), CCV(ICAI), CCIT (ICAI)
Not an Insolvency Professional, Registered Valuer with IBBI
Total experience : 7 Years
Core Competence & Industry specific experience
Audit & Assurance, Direct & Indirect Taxation Advisory and Compliances, Transaction Advisory Services, Stressed Asset Management, Restructuring, Preparation of Resolution Plan under IBC.
Experience in restructuring & handling of Stressed Assets
As Partner of AKG & Co., Chartered Accountants, engaged in handling more than 500 loan proposals, restructuring, etc.
Director of AAA Capital Services Pvt. Ltd. which has handled more than 19,500 cases as Resolution Agents/ Enforcement Agent sunder SARFAESI Act.
Experience Under IBC
Founder Partner of AAA Insolvency Professionals LLP, the largest IPE of the Country under IBC and assisting other partners in CIRP and Liquidation cases.
AAAIP is presently working on more than 46 live CIRP cases & liquidation cases.
Public Speaking and Content Writing
Faculty with ICAI for conducting GST workshops for ICAI Members and Industry. Regular speaker at conferences on valuations under the New Registered Valuers framework.