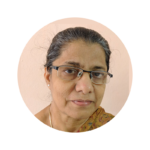 B.Sc, ACMA, IP & Regd. Valuer,
Designated Partner, Hyderabad
Insolvency Professional
Regn No. IBBI/IPA-001/IP-P00955/2017-18/11576
Core Competencies: Have varied experience as worked in reputed central public sector undertaking of heavy engineering, defense etc. for around 31 years in various capacities at senior levels.
Relavent Experience : 5 years experience under IBC appointed by Honrable NCLT Hyderabad Bench in two case,
1. Future tech Instrument as IRP.
2. Greesha Laboratories as RP