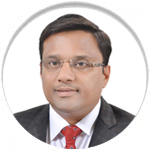 B.Com, FCA,
Insolvency Professional

Regn.No .IBBI/IPA-001/IP-P01331/2018-19/12058
Designated Partner
Designated Partner, Ludhiana
Total experience: 18 Years
Core Competence & Industry specific experience
Accounting, auditing, compliances for businesses Investment Banking, PE and Debt Syndication, Business Valuation, Credit Sanctioning & Monitoring.
Industry Sectors: Iron & Steel, TMT Steel Plants, Fasteners, Forgings-Hot & Cold Auto Parts, Jewellery House Real Estate, Infrastructure Agriculture, Pharma, Power Exports, Retail, Textiles, Hosiery & Garment Manufacturing.
Experience in restructuring & handling of Stressed Assets
Successfully handled more than 50 Debt raising and Debt Restructuring assignments.
Experience under IBC
Have been handling 5-6 companies under CIRP as consultant for Corporate Debtors.
Partner of AAA Insolvency Professionals LLP, largest IPE in the country and assisting other partners in CIRP and Liquidation cases. AAAIP is presently working on more than 46 live CIRP cases.