CA K Easwara Pillai
Partner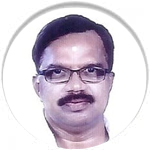 BA (Eco.), FCA
Insolvency Professional
Regn.No .IBBI/IPA-001/IP-P00448/2017-18/10791
Designated Partner, Kochi
Total experience : 35 Years

Core Competence & Industry specific experience
Auditing, taxation, compliances, Project Finance, Debt Syndication, Overseas investment consultancy in industry sectors like Manufacturing, NBFC/Nidhi Companies, IT, Hospitality, Builders/Property Developers, Trusts/NGOs etc.
Commendation certificate from Kerala Government for outstanding contribution for 20 years in financial and all tax related matters of "Guruvayur Devaswom" having an asset base of Rs.10,000 Crores.
Experience in restructuring & handling of Stressed Assets
Handled about 20 assignments of restructuring of bank loan proposals.
Provided consultancy to about 10 corporates undergoing financial stress and provided consultancy for working capital management.
Concluded more than 25 cases of One-time Settlements (OTS) and made presentations before banks.
Experience under IBC
IRP proposal in the case of M/s. Lakshadweep Development Corporation Ltd. is pending with NCLT, Chennai.
Public Speaking and Content Writing
Frequent articles on IBC in the Business column of Mathrubhoomi Daily.