CA. Rahul Maheshwari
Partner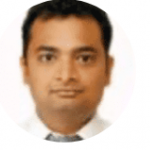 B. Com, Chartered Accountant
Cleared Exam for Registered Valuer – SFA
Regn.No.-IBBI/IPA-002/IP-N01046/2021-2022/13625
DESIGNATED PARTNER, Delhi
Total experience : 17 years
Core Competence & Industry Specific Experience:
Resolution Management, Corporate Lending and Restructuring.
Insolvency and Bankruptcy Law
Handled many settlement beneficials to all stakeholders.
Multi-sector Experience – Agri, Food Processing, Automotive Ancillary, Consumer,
Healthcare, Manufacturing, Roads, Power plant, EPC, Textile etc.
Experience in Restructuring & handling of Stressed Assets:
As a Banker have handled large ticket stressed account with banking exposure greater than INR 4000 Crs.
Have been a part of COC in cases under CIRP.
Public Speaking and Content Writing:
Speaker at many Industrial Associations & SIDBI.
Awarded as trainer award for training substantial number of Internal Bank Members on credit appraisal.