CA. Sanjay Shrivastava
Partner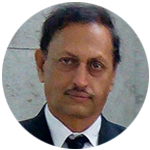 B.Sc., FCA
Insolvency Resolution professional
IBBI/IPA-001/IP-P01528/2018-19/12425
Experience/ Exposure: Audit Statutory, Internal, Concurrent, Stock and Revenue audits of Banks like State Bank of India, Bank of Baroda, Punjab National Bank, State Bank of Patiala, Bank of Maharashtra, Union Bank of India, Dena Bank, Indian Overseas Bank and Central Bank of India    and United Western Bank ( Now IDBI Bank) Special audits for Citi Bank, Standard Chartered Bank, HSBC, ICICI Bank and Yes Bank.
Audits of Public Sector organisation such as Western Coalfields Ltd. and Mineral Exploration Corporation.
Taxation:  Practice in Income Tax and GST.
Project Finance: Loan Syndication for Small and Medium-sized organizations
Outsourced Assignments:
Some of the assignments have been done on behalf of Two Chartered Accountants firms, situated at New Delhi and Noida with whom I have Informal networking arrangement for the last 10 to 12 years.
MANAGEMENT CONSULTANCY:
Development of Accounting and Management Information System for medium-sized organizations
INSOLVENCY RESOLUTION Have recently qualified as Insolvency Resolution Professional and got                    registered with Insolvency and Bankruptcy Board of India in March 2019
Being a recently registered Insolvency Professional, I am yet to handle any insolvency case.