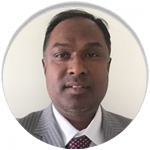 B.Com. CWA & FCA
Insolvency Professional
Regn.No IBBI/IPA-001/IP-P01434/2018-2019/12277
Cases Handled                                                                               Claim Value (Rs. Cr)
Scope Properties Private Limited                                                                  31
Comson Bio Technologies Limited                                                               64
DESIGNATED PARTNER, BENGALURU
Total-experience: 23 Years
Core Competence & Industry-specific experience
Advisory and Setting up of Business in India, Accounting, Auditing, Tax and Regulatory compliances for MNC and domestic companies, PE and Debt Syndication, Business Valuation, Credit Sanctioning & Monitoring.
Industry Sectors: Real Estate Development, Construction, Bio-Technology, IT&ITES, House Real Estate, Infrastructure Agriculture, Retail, Textiles, Hosiery & Garment Manufacturing.
Experience in restructuring & handling Stressed Assets
Successfully handled more than 50 Debt raising and Debt Restructuring assignments.
Experience under IBC
Fully handled CIRP process as Resolution Professional for Camson Bio Technologies Ltd, a BSE Listed Company engaged in agriculture biotechnology products and Scope Properties Private Limited, a real estate asset company.  During CIRP he has identified and filed an application for the avoidance of transactions for disgorgement of value lost through avoidance transactions to maximize the value of stakeholders for clawback of assets of Rs.120 crores in total.  Now appointed as Liquidator for these 2 companies.
Have been handling 5-6 companies under CIRP as a consultant for Corporate Debtors.
Partner of AAA Insolvency Professionals LLP, largest IPE in the country and assisting other partners in CIRP and Liquidation cases.