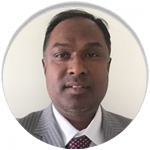 B.Com. CWA & FCA
Insolvency Professional
Regn.No IBBI/IPA-001/IP-P01434/2018-2019/12277

Designated Partner, Bengaluru
Total experience : 21 +Years
Core Competence & Industry specific experience
Played a stellar role in setting up more than 100 companies including Foreign Companies and managing their finance function
Industry Sectors: Construction, Textile, Manufacturing, Embedded technology, Hospitality services, IT/ITES, Project Management, Real Estate, Stone Industry, Trading, Translation Services and Engineering Services.
Experience under IBC
Have been handling 5-6 companies under CIRP as consultant for Corporate Debtors.
Partner of AAA Insolvency Professionals LLP, largest IPE in the country and assisting other partners in CIRP and Liquidation cases. AAAIP is presently working on more than 46 live CIRP cases.