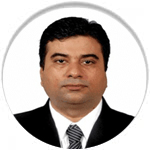 FCA, Licentiate ICSI
Insolvency Professional
Regn.No .IBBI/IPA-001/IP-P00264/2017-18/10508
Designated Partner, Kolkata
Total experience : 23 Years
Core Competence & Industry specific experience
Banking – Concurrent Audit, Statutory Audit, Accounts Audit and Taxation, Direct and Indirect Taxation, Audit under SOX.
Industry Sectors: Plywood, Power Transmission, Jute and Real Estate Industries.
Experience in restructuring & handling of Stressed Assets
Loan applications for clients including applications for rescheduling and restructuring of loans.
Working Capital management for clients under financial stress.
Experience under IBC
Partner of AAA Insolvency Professionals LLP, largest IPE in the country and assisting other partners in CIRP and Liquidation cases. AAAIP is presently working on more than 46 live CIRP cases.