CMA. Ramakishan Agarwal
Partner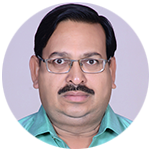 B.Com, M.Com, CMA,  
Insolvency Professional
Designated Partner 
Jaipur
Regn. No. IBBI/IPA-003/IPA-ICAI-N-00212/2018-2019/12364
Total Experience:- 28+ years
Core Competencies and Industry-specific experience:-
Worked as Management Trainee in Grasim Industries Limited for a year. 
26+ years of experience of Running and Managing Business operations of various fields of industry namely 
Manufacturing of Electrical PVC Wires & Cables 
Manufacturing of Footwear and 
Manufacturing of HDPE Pipes & Sprinkler System. 
I have worked with the above-mentioned industry sectors as a senior working partner and have developed a thorough business understanding. 
Past Secretary (2017-2019) of Laghu Udhyog Bharti Unit of Sikar District, Rajasthan. 
Cost Accountant in Practice having almost 1-year experience developed following core competencies: 
Accounting 
GST Auditing 
Taxation – Direct and Indirect 
Credit Sanctioning & Monitoring 
Project financing and preparation of Project Report. 
Experience under IBC :
Empanelled as Administrator under SEBI and as IRP/RP/Liquidator under IBBI. 
Partner of AAA Insolvency Professional LLP which is the largest IPE in the country and assisting the other partners in CIRP and Liquidation cases. 
AAAIP is presently working on more than 78 live CIRP cases and 22 Liquidation cases.