Mr. Sachin Gopal Jathar
Partner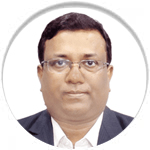 BE(Hons.), MBA, CAIIB, PMP
Insolvency Professional
Regn.No.IBBI /IPA-002/IP-N00640/2018-19/11968

Designated Partner, Kolkata
Total experience: 20 Years
Core Competence & Industry specific experience
Business Management and strategy consulting, Treasury & Fund Management, Business Restructuring (Deal structuring/negotiations), Risk Analytics & Modelling, Valuation of Plant, Machinery & Financial Assets.
An experienced Banker and key management personnel associated with Apex Financial Institutions and global banking entities whose portfolios covered diverse industrial segments.
Experience in restructuring & handling of Stressed Assets
Helped design & implement Mid-Term Strategy for Commercial Banking business. Management & administration of portfolio of stressed assets in UK & other regimes. Provided consultancy for restructuring & rehabilitation of stressed assets / portfolios.
Thought leadership
Have undertaken trainings covering Risk Management in Banking, Business Transformation and Program Management. As a 6 Sigma Green-belt holder, helped transform a number of businesses and mentored quite a few senior managers.
Published articles on Credit Management, Strategy & Risk Management and Analytics in various forums.